In addition, we met and made connections with so many awesome and talented people, including Doug Aldrich (ex-Dio, ex-Whitesnake, The Dead Daisies), Steve Fister (ex-Steppenwolf, ex-Iron Butterfly, solo), Nalle Colt (Vintage Trouble), David Taub (Next Level Guitar), Larry Mitchel, Greg De Lorto from Music Mart - Solana Beach, Jeff Floro from LA Talk Radio and so many more. This list can go on forever.
Let's get to the specific though. We finally officially presented our new brand – D.A.G by Universum Guitars. All these guitars were handcrafted in Ukraine and designed in collaboration with our American partners to cater for the American market in the best possible way. Naturally, we maintained our Golden Ratio philosophy and quality standards but added a twist to our new instruments. These guitars are modern vintage wonders of guitar manufacturing. We actually have a separate post specifically elaborating on the difference between D.A.G and traditional Universum Guitars instruments, if you are interested.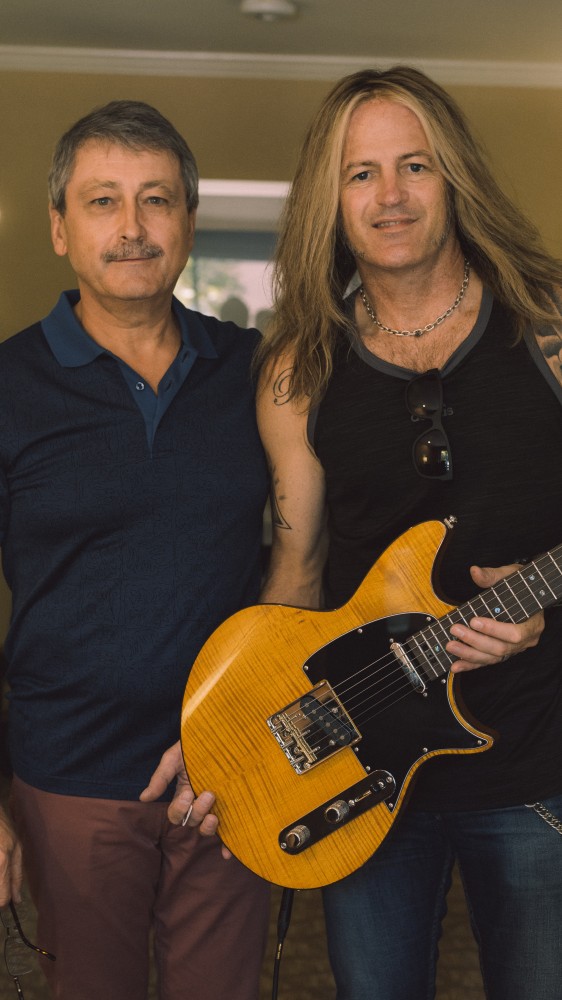 What the trade show demonstrated is the smashing hits of our new brand. First and foremost, in the realm of guitars these are Novus and Grace. Novus has an acoustic chamber and semi-hollowed neck resulting in both unique sound with clear and distinctive tone and extreme lightness of this incredible axe. The standard version of the model has a reverse headstock, as well as a reverse bridge resulting in more tonality. Novus comes in two versions –with single and humbucker pickups. As for Grace, we have two versions of this magnificent beauty – a solid body and hollowed body version. Solid body Grace packs a strong punch, courtesy of the sapele body that also delivers powerful mids and crazy long sustain. Hollowed Body Grace, on the other hand, has strong acoustic tones adding to the coloration of the sound.
When it comes to basses, we are proud to announce that both bass guitars we brought along – B32 and Major Bass 32, achieved stratospheric success at the LA Amp Show. B32 is a short-scale, semi-hollowed body bass with the most distinctive and clearest bass tone in existence. It's light as a feather and extremely comfortable to play. As for, Major Bass 32, it has a unique feature that sets it worlds apart from any competition – the ability to switch pickups with ease by using our patented pickup rings suitable for any kind of combinations. Both basses come with active and passive pickups.
That's not the end of all the excitement that took place at the LA Amp Show 2018. We also showed the products of our collaboration with SoloDallas – a guitar called WorkHorse. This axe incorporates the classic rock philosophy of SoloDallas making it a perfect addition to company's amps and pedals. If you are looking for those powerful, loud and earthshattering rhythm rock tones, this is a guitar for you. You can find out more about it here.
After all that the smile just doesn't come off our faces. It's such an honor and privilege for us to make guitars and be able to come to the U.S. and present them to the public on the other half of the world. We're grateful to everyone, who had supported us and helped with their criticism, which made it possible for us to create such smashing hits in guitar world. Thanks to everybody, who visited us at the show. There will be so much more to come. Stay tuned for new and innovative vintage modern guitars.